Road surface repair works will be carried out on M5 Motorway in the area of Kecskemét between 12th June and 23rd June 2019 in the direction of Szeged between chainage 80 and 87.
The works start on 12th June 2019 on the affected sections, there will be one traffic lane available for the travellers during installing the traffic diversion. During the road surface repair works between chainage 80 and 87 from the direction of Szeged one traffic lane will be diverted into the direction of Budapest, ensuring the two traffic lanes for the travellers travelling towards both directions. During the road surface repair works Kecskemét Northern bypass interchange and Kecskemét North interchange will be available for the travellers from both directions. The road surface repair works are expected to be finished foreseeably on 23rd June 2019 by demolishing the traffic diversion; during demolishing there will be one traffic lane available for travellers. During the pavement reconstruction works the maximum speed will be limited to 60 and 80 km/h.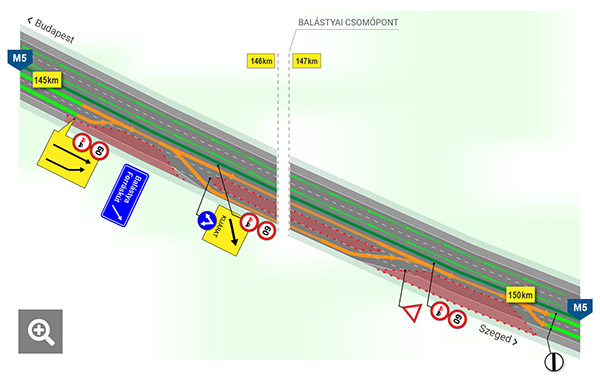 Information about current traffic restrictions and diversions will be continuously provided by Útinform on www.utinform.hu website, AKA Zrt. on www.aka.hu/en website and the operator – AWAY Zrt. AKA Zrt. asks travellers to drive more carefully, with keeping the speed limit on the M5 motorway.
Unforeseeable events may result changes in the above mentioned schedule, AKA Zrt. reserves the right to modify the schedule of maintenance works.
We wish you a safe trip!
AKA Zrt.